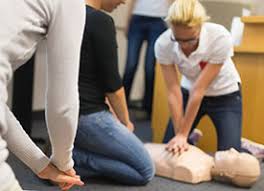 CERT of The Villages offers free CPR (now CCC –  Continuous Chest Compression)  / AED (Automated External Defibrillator) / Heimlich Maneuver (choking) training to any resident of The Villages who wishes to take the class. Classroom training and hands on training using training manikins and training AED units is provided. These classes are held on the 2nd Friday of every month at the Colony Cottage Recreation Center (510 Colony Blvd, The Villages, FL)  from 1:00 – 3:30 pm. 
Certification is not provided in this free class.

You

must register

to attend these classes due to limited training units.
Attendance is limited to those who register.
The "Register for CPR Class" button below will take you directly to the CERT CPR Class registration location on the Eventbrite.com website. CERT of The Villages uses Eventbrite to provide event management and ticketing services.
We also offer private classes for organizations. There is no fee for this class. If you would like to schedule a class for your Villages-affiliated organization, click on the button below.
CERT of The Villages provides free training classes to individuals and organizations in the community in a variety of subjects all designed to educate the public about emergency situations. If you have any questions about a class or desire to have CERT of The Villages provide a class for your organization, please use the "Request Class Information" button.