Free Public Training Class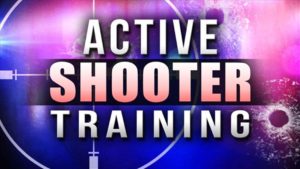 An active shooter is an individual actively engaged in killing or attempting to kill people in a confined and other populated area. In most cases, active shooters use firearms and there is no pattern or method to their selection of victims. Active shooter situations are unpredictable and evolve quickly.
Recent national tragedies remind us that the risk is real: an active shooter incident can happen in any place at any time. The best ways to make sure you and your loved ones stay safe
are to prepare ahead of time and be ready. Taking a few steps now and mentally rehearsing what to do can help you react quickly when every second counts.
Our goal is to encourage education and training and provide people the tools they can use to be prepared for and respond and react to active shooter situations. There is no fee for this training, and it open to everyone. Our hope is that this content helps save lives.
CERT of The Villages provides free training classes to individuals and organizations in the community in a variety of subjects all designed to educate the public about emergency situations. If you have any questions about a class or desire to have CERT of The Villages provide a class for your organization, please use the "Request Class Information" button.